Shopping Cart
Your Cart is Empty
There was an error with PayPal
Click here to try again
Thank you for your business!
You should be receiving an order confirmation from Paypal shortly.
Exit Shopping Cart
.....where your passion for natural treasure is our mission!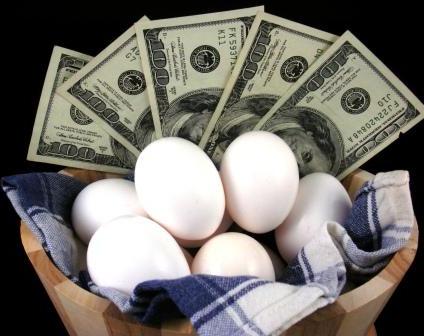 What does putting all your eggs in one basket have to do with multiple streams of income?  Nothing, they are polar opposites.  Most of us are familiar with the "never put all your eggs in one basket" saying, right?  What happens if the handle on the basket breaks, or we drop the basket, or the basket (economy) drops us?  No eggs!:(  Well, if your eggs are your income, uuuhhhmmm, that's not good.  Consider your J.O.B., or even your current business one basket, and one basket only.  What happens to you, or your family and dependents if something should upset that basket?  You would be in the same situation that many, many, unemployed Americans are in right now.  The fortunate few who were able to amass the minimum required savings for emergencies like this are eeking it out on unemployment and dwindling savings, but for how long?  The average job search is now stretching out to 8 months to one year. 

Now consider what the situation would look like if those same Americans had understood (what big business and the wealthy have always known) the idea of multiple streams of income.  It's really as simple as the definition would imply.  The more income streams we have, the less dependent we become on any one particular stream and the less debilitated we are if one should dry up.  Okay, that wasn't exactly rocket science, or earth shattering I know, and you've undoubtedly heard it before.  So, if you're like me, your questions are: if I don't have multiple streams of income and I don't have a lot of money to invest, where do I start, and what do I do?
How about letting someone else who's already done it, and is living quite comfortably on the results, teach you how to do it too and for less money than you would pay for two nice dinners out on the town? Not just any someone, but a well-known, down to earth, Christian Internet Business Coach, James L. Paris. Jim once ran a successful financial planning business, living comfortably on one stream of income that he never dreamed would dry up one day. But dry up it did through no fault of his own, and in a single day he found out he was broke. His struggle to regain his financial integrity resulted in far more than he had originally planned, in the process he also regained his personal freedom. Jim's tragic life experience, although painful and impossible to see at the time, prepared him for a special kind of ministry. His ministry (although he doesn't call it a ministry)is teaching and coaching other Christians to develop alternate and multiple streams of income on the internet. Jim is not a computer guru,and he doesn't profess to be one, but he is a survivor, and he is making a living doing exactly what he is prepared to teach you to do. Jim not only teaches you from A to Z, soup to nuts, step by step, how to do it yourself, but also periodically offers pre-made websites with charter membership opportunities to jump start your income streams leveraged with the advantage of the traffic from his established financial advise websites.  For as little as $39.00 down, 8 payments of $15.00/month, and $5.00/month hosting fee you can have a website up and running in a few days! But that's just the beginning!
When James L. Paris offers his help, he also offers free ongoing training, free direct access, more tools than you'll know what to do with, resources that are free or very, very economical, and easy (instant) entry into the internet economy for (no joke here) everyone!  It doesn't matter if you're a novice or barely know how to turn on the computer.  All you need is very little money for the one time investment and a lot of heart and desire to make a change in your destiny. 
Before you run screaming out the door....it's NOT multi-level marketing, it's not get rich quick, and you won't be quitting your job next week.  It's a process, a steady step by step program to teach you how to create multiple streams of recurring income with very little investment and little to no computer programming experience required.  If you are a Christian (or just looking for an ethical, non spammy internet presence), and you want to someday be truly financially independent, you owe it to yourself and your loved ones to at least take a really close look. 
I can tell you from personal experience that you will recover your investment many times over in the training alone. This is the open door, all you have to do is venture in, take a few minutes and watch the free video. It just might be the beginning of your journey to financial independence and the vehicle for the realization of your greatest dreams...

Categories: Internet Income Opportunities

0

/